Frequently asked questions on your Paros accommodation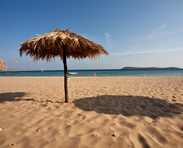 Experience the tranquil & welcoming atmosphere of Drios! Leave your car behind and take the nearby footpath to get to Boudari Beach (an ideal swimming spot for families with children) or to Golden Beach with its windsurfing & scuba diving schools.
click on each question to reveal the answer!
There are various ways to reach the rooms from Parikia port. The shortest one, is via the mountainous village of Lefkes. Leaving from the port, you head towards Lefkes (about 10km from Parikia). Once in Lefkes, you follow the signs to Marpissa, Drios or Golden Beach.
You cross Marpissa and head towards Golden Beach & Drios. As you approach, you will first pass by New Golden Beach (Tserdakia) and then you arrive in Golden Beach where you will see a "Jet Oil" gas station on your right. About 1km from this gas station, you will see "Xilaras" (restaurant, mini-market & motorbike rentals) on your right. Just a few meters further down, on your left a small sign saying "Boudari". Turn here, go straight on and about 60m. down the road, you will see in front of you the entrance to the Flora & Aggelos garden!
Public buses from Parikia port, the main port of Paros, to Drios village run more or less every hour in May, June and September, and more frequently in July and August. There is also bus service in April and October – but with a few bus per day – usually until early afternoon.
There is a bus stop right by the main road passing near the rooms, about 60m. away. It's "Boudari stop". Be sure to buy your tickets beforehand from Drios center (at the mini market) or Golden Beach bus station (at the automatic seller) – you can always get a ticket inside the bus, but for a higher price.
• Nearest mini market, restaurant & motorbike rentals: 80m.
• Drios Center (more restaurants, super market) at 500m.
• Nearest beach (Boudari) 80m.
• Nearest surf school & diving center: 500m.
• Nearest rent-a-car, ticket sales, shopping center: 5km.
• 22km. from Parikia port
• 16km. from Naoussa
• 10km from Lefkes
No, it is preferable to drink bottled water.
Yes, towels are changed every other day & bedsheets every 3 days. There is also daily cleaning service.
Yes. Free wireless connection is available in your room and in the garden.
Flora & Aggelos Trivizas, Drios, Paros, Greece
Tel: +30 22840 42334 – Mobile +30 6945 825955
Flora's Rooms in Facebook