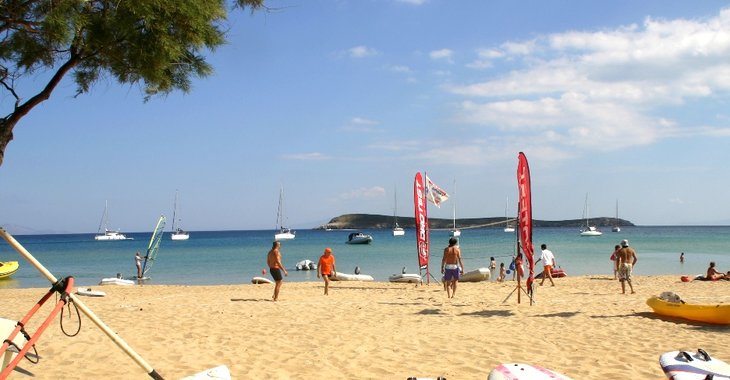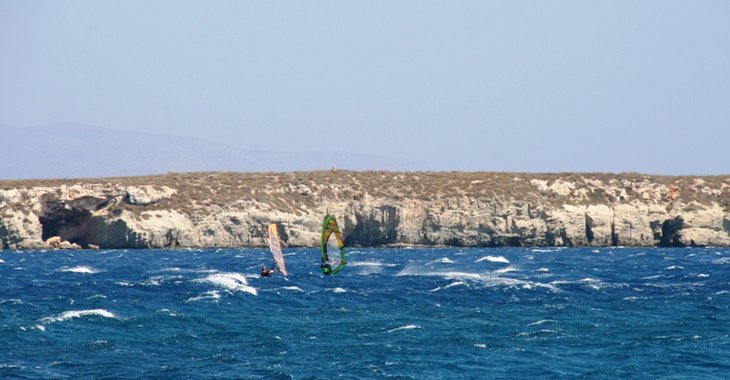 Paros: Windsurfers' Favourite
Golden Beach and New Golden Beach (located respectively at 1km. and 3km. from Flora & Agelos rooms) are famous among the windsurfers.
Golden Beach
Golden Beach (located 1km. away from Flora & Agelos rooms -easily accessed by the main road or the nearby footpath) has 3 wind surf clubs, providing rentals & lessons. Golden Beach with offshore wind and flat sea is ideal for Freestyle & Slalom windsurfing.
In July & August, the north winds in the area (known as "Meltemia") are usually between 5-6Bft, ie. 18-28 knots.
More advanced surfers find Wave conditions at the canal between Macronissi islet and the Golden Beach coast, while the bay itself is optimal for beginners.
The first wind surf station in Golden Beach – which was also the first one in Paros – opened in 1984. Since then, many RSX champions have been training here, including the Olympic champion Nikos Kaklamanakis and the Greek National Windsurf Team which practises in the area for some time every year. Golden Beach hosts various International wind surf races and Slalom events throughout the summer.
Due to the Mediterranean climate, you can surf here all year round, while the windsurf stations are open from April to October. In extreme weather conditions, it is always easier to windsurf in the bay area, making winter surf accessible to less advanced athletes. The surf stations at Golden Beach area offer in total 4 rescue boats, advanced material available for rent, highly skilled & multi-language instructors.
Side activities include catamaran, kayak & SUP (stand-up-paddling) rentals, tubing, beach volleyball, open-air dance lessons and massage. There is also a renown scuba diving center – the "Aegean Diving College"
New Golden Beach (Tserdakia)
The area of New Golden Beach (or Tserdakia), located at 3km from Flora & Agelos accommodation, has the largest wind-surf club in Paros, with 50 boards & 50 rigs, incl. Wave material for rent. New Golden Beach bay has a little reef, swell and waves. The wind here is rather constant, sideshore – between 6-8Bft. Wind surfing can be enjoyed throughout the year. The area is ideal for more advanced surfers.
Along with the surf station, there is also a scuba diving center in New Golden Beach.
Flora & Aggelos Trivizas, Drios, Paros, Greece
Tel: +30 22840 42334 – Mobile +30 6945 825955
Flora's Rooms in Facebook