Accommodation Facilities & Nearby Attractions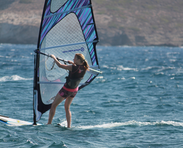 The countryside area of Boudari, between the village of Drios & the long bay of Golden Beach is offered for various holiday styles! Either athletic or "vegging-on-the-beach", cosmopolitan or agriculturist, quiet family holidays or late nights out.. Flora & Agelos Studios offers simple accommodation in an ideal location!
Studio Amenities & Things to Do in Drios & Golden Beach
Garden

A traditional Parian garden, full of colorful flowers, fruit and olive trees and a few vegetables.

Balconies / Verandas

On the top floor, the double studio & the small apartment for 2-4 have large verandas with view to the sea, the islet of Drionissi & Naxos Island. You can also watch the sun & moon rising. Ground florr studios, have small back balconies and private front balconies in the garden.

Kitchen

All rooms at Flora & Agelos have small kitchen with stove, refrigerator, coffee-maker and some necessary cooking utensils & dinnerware.

TV & Air-condition

Most summer nights, the sea breeze cools the rooms.

Wi-Fi

Wireless Internet connection in your room and around the garden.

Exterior Shower

Set in the garden.

Daily cleaning

Flora & Agelos have a reputation for being perfectly clean – as it is the locals' pride to offer well-tended accommodation to their guests. Towels are changed every other day, bedsheets every three days.

Parking

Plenty of parking space in the garden.

Nearby Beach

Nearby Boudari (80m. away) has 4 small beaches ideal for kids – since they are sandy, shallow and with clear waters.

Nearby Footpath

A lovely seaside footpath, leads you to Drios Village (500m. away) to the south, and to Golden Beach (also 500m. away) to the north.
Bus stop

The nearest bus stop is just up the road, about 50m. away, with connections to Naoussa and Parikia.

Car/Moto rentals

Motorbike rental (quads) are located about 100m. away from the accommodation. Car rentals are available at Piso Livadi 4km away, where you will also find travel agencies for tickets, excursions & cruises.

Hiking & Jogging

Taking the nearby walking trail, you can jog or walk from the rooms to Golden Beach and continue to the next bay of New Golden Beach (about 3km distance) – a popular holiday activity in the area. From the same footpath, you can also past Drios to Pyrgaki bay – a pleasant stroll of about 2km. More hiking routes are all around the area. Ask the locals!

Windsurf, Scuba Diving & Snorkelling

The area is famous worldwide for its north winds especially in July & August, making it attractive to windsurfers. Unique scuba diving sites are also abundant in the bay and some are shallow enough to be seen while snorkelling. In Golden Beach & New Golden Beach, there are windsurf stations & scuba diving schools.

Local products

In this area of Paros, you can easily find vegetables & fruit from local farmers, as well as home-made olive oil, wine, souma (a strong, local drink), sweets and more! You host, will treat you her on marmalade, and you can always pick some fresh vegetables and fruit from the garden. You could even ask Ms. Flora for some of her own olive oil!

Nightlife - on foot!

There are 3 nearby bars (at about 500m. distance or less) which you can easily access on foot, so no need to worry about drinking that extra glass! Golden Garden lounge bar, Green Project live music bar/restaurant & Resalto seaside rock bar.
---
Flora & Aggelos Trivizas, Drios, Paros, Greece
Tel: +30 22840 42334 – Mobile +30 6945 825955
Flora's Rooms in Facebook